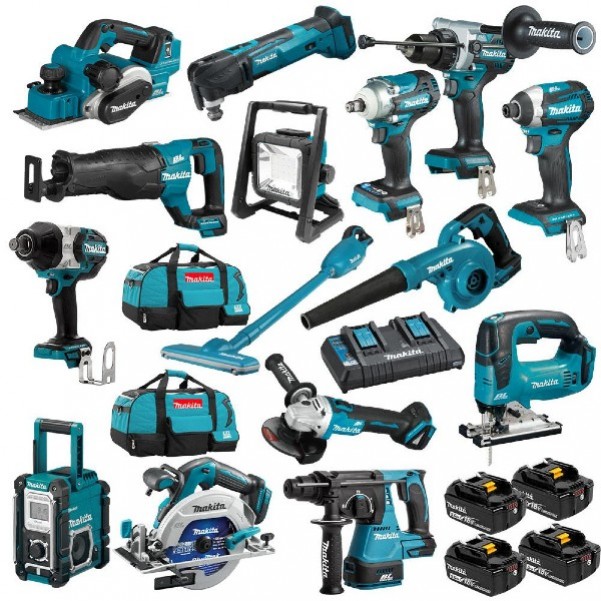 Makita DLX1509TX1 - 18V 4x5.0Ah LXT Cordless Brushless 15 Piece Combo Kit
Includes:
*DTM51Z, DUB185Z and DCL180Z are brushed tools.
Makita DHP486Z - 18V Cordless Brushless Heavy Duty Hammer Driver Drill Skin
Features:
Massive drilling capacity with 152mm hole saw & 50mm auger bit capacity
Compact overall length only 178mm for use in narrow workspaces
High powered brushless motor produces 141Nm peak torque
High durability aluminum gear housing
Mechanical 2 speed gearing with all metal gear construction
Specifications:
Max. Drilling Capacities in Wood:

Auger bit: 50 mm
Self-feeding bit: 76 mm
Hole saw: 152 mm

Max. Drilling Capacities in Steel: 13 mm
Max. Drilling Capacities in Masonry: 16 mm
No Load Speed:

Hi: 0 – 2,100 rpm
Lo: 0 – 550 rpm

Impact Rate:

Hi: 0 – 31,500 ipm
Lo: 0 – 82,500 ipm

Max. Lock Torque: 141 Nm
Max. Tightening Torque:
Overall Length: 178 mm
Skin Weight: 2.1 kg
Weight (with battery): 2.7 kg
Voltage: 18 V
Makita DTD154Z - 18V 1/4" 4-Mode Cordless Brushless Impact Driver Skin
Features:
Brushless motor for more power and longer runtimes.
Aluminium hammer case.
One touch bit installation.
Electronic 3 stage impact selection.
T:mode for self drilling screws.
Variable speed control by trigger.
Ergonomically designed handle.
Specifications:
Voltage: 18V
Impacts per minute:

Speed 1: 0 - 3800ipm
Speed 2: 0 - 2600ipm
Speed 3: 0 - 1100ipm

Vibration level: 12.5m/s²
Sound pressure level: 96dB(A)
Sound power level: 107dB(A)
No load speed:

Speed 1: 0 - 3600rpm
Speed 2: 0 - 2100rpm
Speed 3: 0 - 1100rpm

Capacity:

Machine screw: M4 - M8
Standard bolt: M5 - M16
High strength bolt: M5 - M14
Coarse thread (length): 22mm - 125mm

Max fastening torque: 175Nm
Dimensions (L x W x H): 117mm x 79mm x 236mm
Weight: 1.2kg
Makita DGA504Z - 18V 125mm Brushless Angle Grinder Skin
Features:
Powerful Brushless DC motor (BLDC)
Slide switch
Automatic Torque Drive - changes the cutting speed to load condition for an optimum operation
Battery fuel gauge
Gear housing can be rotated to suit most cutting and grinding applications
Anti-restart function prevents accidental start-up
Concrete cutting depth of 20mm
Extreme Protection Technology with enhanced dust and drip resistant performance
Compatible with 1.5, 3.0, 4.0 and 5.0Ah Lithium-Ion batteries
Specifications:
Net Weight: 2.5kg
No Load Speed : 8,500rpm
Overall Length : 362mm
Wheel Size : 125 x 22mm
Makita DHS680Z - 18V 165mm Brushless Circular Saw Skin
Features:
Powerful Brushless DC motor (BLDC)
Automatic Torque Drive; automatically increases motor torque according to load conditions
Magnesium base with 45 and 50 degrees bevel cutting capacity
Compact and lightweight design
Rear dust exhaust port
Twin LED job light with pre-glow
LED indicator panel with 3 indicators for: Battery Fuel Gauge, Automatic Torque Drive and Overload Protection
Tool hanger for hanging on a ladder or rafter
Large lock off lever easily operated even with a gloved hand
Compatible with 1.5, 3.0, 4.0 and 5.0Ah Lithium-Ion batteries
Specifications:
Bevel Capacity: 50 degrees
Blade Diameter: 165mm
Max Cutting Capacities - at 0 degrees: 57mm
Max Cutting Capacities - at 45 degrees: 41mm
Max Cutting Capacities - at 50 degrees : 37mm
Net Weight : 3.3kg
No Load Speed : 5,000rpm
Overall Length : 350mm
Voltage : 18V
Makita DHR242Z - 18V 24mm Cordless Brushless Rotary Hammer Drill Skin
Features:
Brushless DC motor helps to reduce energy loss by 30%
One-touch sliding SDS Plus type chuck
Variable speed control by trigger
Torque limiter
Easy to grip handle ergonomically designed to provide a sure and comfortable grip in any application
Natural position on mode selector provides 40 different bit angle settings
3 mode operation: Rotation+Hammering, Hammering only, Rotation only
Unique rubber joint construction suppresses the transmission of vibration to battery terminals, minimising battery failures
The tool body is separated into the upper and lower housings with vibration absorbing cushion rubbers
Compatible with 1.5, 3.0, 4.0 and 5.0Ah Lithium-Ion batteries
Specifications:
Drive Shank - SDS Plus Type
Impact Rate - 0-4,700ipm
Joules - 2.0J
Net Weight - 3.3kg
No Load Speed - 0-950rpm
Overall Length - 328mm
Capacity
Concrete - 24mm
Steel - 13mm
Wood - 27mm
Vibration m/s2 - 13.5
Voltage - 18V
Makita DJR187Z - 18V 2-Speed Cordless Brushless Recipro Saw Skin
Features:
BL Brushless Motor design
Newly designed vertical crank mechanism
large 32mm stroke length
Retractable sky hook
Electronic 2 speed
Tool-less shoe adjustment
Tool-less blade change
LED joblight
Specifications:
Length of Stroke: 32mm
Max Cutting Capacities - In Pipe: 130mm
Max Cutting Capacities - In Wood: 255mm
Net Weight: 3.7kg with BL1850
Overall Length: 439mm
Strokes Per Minute: Hi: 0-3,000 / Lo: 0-2,300spm
Makita DTW300Z - 18V 1/2" Cordless Brushless Impact Wrench Skin
Features:
Variable speed trigger & Quick Trigger mode which engages immediate full speed
Forward & Reverse Automatic Stop, with 6 modes for customised applications
High power in a compact design with 330Nm maximum fastening torque
4 stages of impact force enable the user to set the appropriate torque for each application
eXtreme Protection Technology (XPT) provides enhanced protection against dust and moisture
Specifications:
Drive Shank: 12.7mm (1/2") Square
Impact Rate: Max: 0 - 4,000ipm, High: 0 - 3,400ipm, Med: 0 - 2,600ipm, Soft: 1,800ipm
Max. capacities high tensile bolt: M10 - M16
Max. capacities standard bolt: M10 - M20
Max Fastening Torque: Max: 330Nm, Hard: 210Nm, Medium: 160Nm, Soft: 100Nm
No Load Speed: Max: 0 - 3,200rpm, High: 0 - 2,600rpm, Medium: 0 - 1,800rpm, Soft: 0 - 1,000rpm
Nut busting torque: Medium 580Nm
Overall Length: 144mm
Skin weight: 1.2kg
Voltage: 18V
Makita DTW1001Z - 18V Mobile Brushless 3/4' Impact Wrench
Features:
BL Brushless Motor, providing more power and longer run times.
3 stage impact selection, reduces both rpm and fastening torque.
Twin LED joblight, with pre glow and after glow functions.
Rubber joint construction, suppresses the transmission of vibration to battery terminals.
Specifications:
Part Number: DTW1001Z
Impact Rate - 1st: 2,200 ipm
Impact Rate - 2nd: 2,000 ipm
Impact Rate - 3rd: 1,800 ipm
Max Fastening Torque - 1st: 1,050 N.m.
Max Fastening Torque - 2nd: 600 N.m.
Max Fastening Torque - 3rd: 400 N.m.
Max. nut busting torque: 1,700 N.m
Net Weight: 3.1 kg
No Load Speed - 1st: 1,800
No Load Speed - 2nd: 1,000
No Load Speed - 3rd: 900
Makita DJV182Z -18V 26mm Cordless Brushless D-Handle Jigsaw Skin
Features:
26mm stroke with a cutting capacity of 135mm in wood
Soft No-Load improves your control & battery life
800 - 3,500spm no load speed
Variable speed control via dial
Tool-less blade change for quick and convenient blade changes
Specifications:
Length of Stroke: 26mm
Max. Cutting Capacity - Aluminium: 20mm
Max. Cutting Capacity - Steel: 10mm
Max. Cutting Capacity - Wood: 135mm
Net Weight: 2.6kg
Overall Length: 266mm
Strokes Per Minute: 800-3,500
Makita DKP181Z - 18V 82mm AWS Cordless Brushless Planer Skin
Features:
High powered motor allows maximum 3mm cutting depth
Auto-start Wireless System (AWS) for on demand dust extraction*
12,000rpm no-load speed with Automatic Torque Drive performance
Left or right side chip ejection
Electric brake & foot on base plate protect the workpiece from damage
*AWS receiver sold separately
Specifications:
Max. planning depth: 3mm
No Load Speed: 12,000rpm
Overall Length: 366mm
Planning width: 82mm
Shiplapping / Rebate: 25mm
Skin weight : 3.0kg
Voltage: 18V
Weight (with battery): 3.6kg
Makita DTM51Z - 18V Cordless Multi-Tool Skin
Features:
Tool-less accessory changes with lever locking system
Compatible with a wide range of accessories
6,000 - 20,000opm no load speed for versatile performance
12 angle settings of accessories at every 30? from 0? to 360?
Anti-restart function
Specifications:
Oscillation Angle, Left/Right: 1.6 (3.2 total)
Oscillations Per Minute: 6,000 - 20,000opm
Overall Length: 340mm
Skin weight: 1.6kg
Vibration per min: 7.0 m/s²
Voltage 18V
Makita DUB185Z - 18V Cordless Blower Skin
Features:
Increased air volume with 3.2m³/min
3 stage air volume settings & variable speed trigger for maximum control
Wind speeds of up to 352km/h for higher blowing efficiency
Ultra-lightweight at just 2.1kg
Specifications:
Max air volume: 3.2m³/min
Max. Air Velocity: 352km/h
No Load Speed: 0 - 18,000rpm
Overall Length: 517mm
Skin weight: 1.5kg
Voltage: 18V
Weight (with battery): 2.1kg
Makita DCL180Z - 18V LXT Cordless Vacuum Cleaner Skin
Features:
On/Off trigger switch
650mL dust container with fleece filter
4.2kpa* of sealed suction performance
Lightweight at just 1.7kg
Compatible with 1.5, 3.0, 4.0 and 5.0Ah Lithium-Ion batteries
*Average over 2 min with full charge 18V battery and standard filter
Specifications:
Air Volume: 1.4m2/sec
Dust Collecting Capacity: 650mL
Max. Air Suction: 4.2kPa
Net Weight: 1.7kg
Overall Length: 476mm
Suction Efficiency: 30W
Voltage: 18V
Makita DMR108N - 18V Bluetooth Jobsite Radio Skin
Features:
Compact design with IP64 rating ideal for jobsite conditions
Bluetooth for streaming audio and foldable antenna for radio
2 x large 89mm speakers provide 3.5W x 2 high quality audio
USB Ports for charging mobile devices
Foldable antenna that folds away in line with the body of the radio
Practical max output when powered by a 18V battery
1 AUX port
Specifications:
Frequency band: AM: 522 - 1,710kHz / FM: 87.5 - 108MHz
Overall Length: 262mm
Practical max. output: 18V:3.5Wx2
Voltage: 18V
Dimensions (LxWxH): 257x163x431mm
Net Weight: 4.3kg
Makita DML805 - 18V Cordless LED Worklight
Features:
Powered by either 18V LXT battery or 240V AC power
Up to 17hrs runtime on a 5.0Ah battery
20 Bright white LEDs producing high output of 750lm
Powered by either 18V LXT battery or 240V AC power
Can be mounted to tripod or vice available as optional accessory
Specifications:
Continuous Use - Hi: 5.0Ah 8.5 hours
Continuous Use - Lo: 5.0Ah 17 hours
Net Weight: 2.0kg
2-mode operation: delivers 750 lumens on High mode or 440 lumens on Low mode
Makita BL1850B-L - 18V 5.0Ah Lithium Battery with Charge Indicator
Features:
Fuel gauge indicator, displays charge remaining on battery in four stages
Built-in memory chip communicates the usage history with the charger
Built-in shock absorbers protect the cells from job site conditions
High energy cells pack more power per cell to reduce the number of cells and overall weight
Large release button for easy removal from the tool
Built-in air vents and wall cools the battery cells evenly whilst blocking damaging debris
16 contact terminals provide consistent power and firm hold in any environment
Specifications:
Cell Capacity: 5.0Ah
Charge Time: 45mins w/DC18RC
Net Weight: 630g
Voltage: 18V
Makita DC18RD - 18V Dual Port Battery Charger 196936-0
Features:
Fast charging - charges 2 x 3.0Ah Lithium-Ion batteries at the same time in only 22 minutes
Built-in CPU - gathers information from the battery's memory chip to determine optimum charging method
Forced air cooling fan - cools the battery to minimise charging time
LED charging display
Full charge sound alert
USB port provides 1.5A output for charging smart phones, tablets, etc
Specifications:
Net Weight 1.9kg
Overall Length: 205mm
Voltage: 18V
Charging Times:
Two - BL1815 18V Makita 1.5Ah Batteries 15 minutes + Universal USB port for charging mobile Devices
Two - BL1830 18V Makita 3.0Ah Batteries 22 minutes + Universal USB port for charging mobile Devices
Two - BL1840 18V Makita 4.0Ah Batteries 36 minutes + Universal USB port for charging mobile Devices
Two - BL1850 18V Makita 5.0Ah Batteries 45 minutes + Universal USB port for charging mobile Devices
Makita 199936-9 - 600mm LXT Tool Bag
Features:
Designed to carry varying loads. Wide deep main pocket provides quick tool recognition and easy access;
External pockets for tools provide quick tool recognition. Wide zipper opening provides easy tool access from the main pocket;
Adjustable heavy-duty shoulder belt makes lifting more comfortable. Metal hooks at the ends let you easily unfasten the belt when not needed;
Handles made of polypropylene tape with small pieces of polyester and foam inside for maximum comfort when carrying ;
Specification:
Height 300mm Length 600mm Width 300mm
If you have any queries about Freight, please Call: 07 3326 1555 or Email: web@cltoolcentre.com.au
**We are able to dispatch goods Australia wide**
** Cut Off Time For Overnight Orders is 11:30 am Subject To Stock Availability **
** International orders are accepted at our discretion, Please contact our sales team for terms conditions & charges related to overseas orders**
​Free Shipping - For Orders Over $99 (Conditions applied)
* WA Emergency Service: With key road and rail transport arrangements into and out of Western Australia significantly disrupted or unavailable, Auspost starts to charge an additional emergency measure cost of 40% (ex GST) of the freight charges. We have to temporarily exclude WA from the promotion of "Free Shipping For Orders Over $99 (Conditions applied)".
C&L Tool Centre now offers free delivery for orders over $99 on a single transaction depending on shipping weight and Destination Zone. Please see the table below for details.
The total weight of the order must be below 20KG and the dimensions of the package have a maximum length of 1m and package volume of 0.25m³.
Items that exceed the above weights and dimensions or not meet requirements in Table1 may incur a freight charge and we will contact you prior to the dispatch to advise and confirm any freight charges.
This offer is valid for a limited time and C&L Tool Centre reserves the right to remove the offer without notice.
Table1:
Over $99 Free Shipping - Terms and Conditions

Destination Zone
Cart Total Requirement For Different Shipping Weight and Zone
Postcode
Zone
Name

0-3KG

3.01-6KG

6.01-10KG

10.01-20KG

Q0
Brisbane Metro

>=$99

4000-4018, 4029-4068, 4072-4123, 4127-4129, 4131-4132, 4151-4164, 4169-4182, 4205-4206, 9000-9725
Q1
Brisbane
4019-4028, 4069-4071, 4124-4126, 4130, 4133-4150, 4165-4168, 4183-4204, 4207-4209, 4270-4299, 4500-4549
GC
Gold Coast
4210-4224, 4226-4269, 9726-9919
IP
Ipswich
4300-4308
SC
Sunshine Coast
4550-4579
N0
Sydney Metro

>=$99

>=$199

1000-1935, 2000-2079, 2085-2107, 2109-2156, 2158, 2160-2172, 2174-2229, 2232-2249, 2557-2559, 2564-2567, 2740-2744, 2747-
2751, 2759-2764, 2766-2774, 2776-2777, 2890-2897
N1
Sydney
2080-2084, 2108, 2157, 2159, 2173, 2230-2231, 2508-2514, 2555-2556, 2560-2563, 2568-2574, 2745-2746, 2752-2758, 2765, 2775,
2778-2786
N4
Tweed Heads
2485-2486
V0
Melbourne Metro
3000-3062, 3064-3098, 3101-3138, 3140-3210, 3800-3801, 8000-8999, 9999
V1
Melbourne
3063, 3099-3100, 3139, 3335-3341, 3427-3443, 3750-3799, 3802-3811, 3910-3920, 3926-3944, 3975-3978, 3980-3983
Q5
Coolangatta
4225
Q2
QLD Country Near
4309-4453, 4580-4693
Q3
QLD Country Mid

>=$99

>=$199

>=$299

>=$399

4454-4499, 4694-4802, 4804-4805, 9920-9960
GF
Gosford
2250-2263
WG
Wollongong
2500-2507, 2515-2532
NC
Newcastle
2282-2310
CB
Canberra
200-299, 2600-2620, 2900-2920
S0
Adelaide Metro
5000-5113, 5115-5117, 5125-5130, 5158-5169, 5800-5999
S1
Adelaide
5114, 5118-5124, 5131-5157, 5170-5200
N3
Albury
1936-1999, 2640-2641, 2708-2709
N2
NSW Country
2264-2281, 2311-2484, 2487-2499, 2533-2554, 2575-2599, 2621-2639, 2642-2647, 2649-2707, 2710-2714, 2716, 2720-2730, 2787-
2879
V3
Wodonga
3689-3690
Q4
QLD Country North
4803, 4806-4999, 9961-9998
GL
Geelong
3211-3220
W0
Perth Metro
6000-6030, 6036, 6050-6066, 6069, 6076, 6090-6110, 6112-6120, 6147-6160, 6162-6175, 6180, 6182-6206, 6210, 6800-6990, 6992-
6996
W1
Perth
6031-6035, 6037-6049, 6067-6068, 6070-6075, 6077-6089, 6111, 6121-6146, 6161, 6176-6179, 6181, 6207-6209, 6211-6214, 6991,
6997-6999
T0
Tasmania Select

>=$199

>=$299

>=$399

>=$699

7000-7019, 7050-7053, 7055-7108, 7172, 7248-7254, 7258-7329, 7800-7999
T1
Tasmania
7020-7049, 7054, 7109-7150, 7155-7171, 7173-7247, 7255-7257, 7330-7799
BR
Ballarat
3350, 3353-3356
V2
VIC Country
2648, 2715, 2717-2719, 2731-2739, 3221-3334, 3342-3349, 3351-3352, 3357-3426, 3444-3688, 3691-3749, 3812-3909, 3921-3925,
3945-3974, 3979, 3984-3999
AAT
Aust Antarctic Territory*
7151-7154
S2
SA Country
2880-2889, 5201-5749
NT1
NT Near
0800-0802, 0804-0821, 0828-0851, 0853-0853, 0860-0861, 0870-0871, 0873-0879, 0906-0999
NT2
NT Remote
0803-0803, 0822-0827, 0852-0852, 0854-0859, 0862-0869, 0872-0872, 0880-0905
NF
Norfolk Is*
2898-2899
W4
Christmas & Cocos Is*
6798-6799
W2
WA Country South
6215-6700
W3
WA Country North
6701-6797
Makita Limited Warranty
MAKITA POWER TOOLS & ACCESSORIES
Makita Power Tools & Accessories are manufactured to the highest quality standards and are thoroughly inspected and tested before leaving the factory. In addition to any statutory rights and remedies you may have, Makita warrants its products sold new in Australia via an Authorised Makita Australia Dealer against defective workmanship and faulty materials from the date of purchase by the end customer for the corresponding period set out in the Classifications below (calculated in each case from the date of purchase):

*Limited to purchases that are registered online at Makita.com.au/MyMakita within 30 days of invoice. This offer is extended to purchases made between 1st January 2020 and 30th June 2020, which must be registered by 31st July 2020 to qualify.
**Purchases registered post 30 days of invoice or non-registered purchases, including those prior to 1st January 2020.
***The spare parts must also have been fitted by an Authorised Service Agent.
Makita will undertake, as its option, to repair or replace, free of charge, each product or part thereof which qualifies under this Limited Warranty on the condition that:
• The complete product is returned to Makita or one of its Authorised Service Agents, in person or freight pre-paid by you, and found, on examination, to be suffering from a manufacturing defect;
• The product or relevant part has not been subjected to misuse, neglect, or been involved in an accident; and
• The repairs are not required as a result of normal wear and tear.
Makita cannot be held responsible for any repair other than those carried out by it or one of its Authorised Service Agents. In Australia "Makita" means MAKITA (AUSTRALIA) PTY LIMITED, 2 Litton Close, Pemulwuy NSW 2145, Telephone: 1300 361 690.
IMPORTANT NOTE FOR AUSTRALIAN CONSUMERS:
Our goods come with guarantees that cannot be excluded under the Australian Consumer Law. You are entitled to a replacement or refund for a major failure and for compensation for any other reasonably foreseeable loss or damage. You are also entitled to have the goods repaired or replaced if the goods fail to be of acceptable quality and the failure does not amount to a major failure.
Makita (Australia) Pty Ltd ACN 001 117 335.
PLEASE RETAIN A COPY OF THE TAX INVOICE FOR YOUR WARRANTY.
Makita DLX1509TX1 - 18V 4x5.0Ah LXT Cordless Brushless 15 Piece Combo Kit