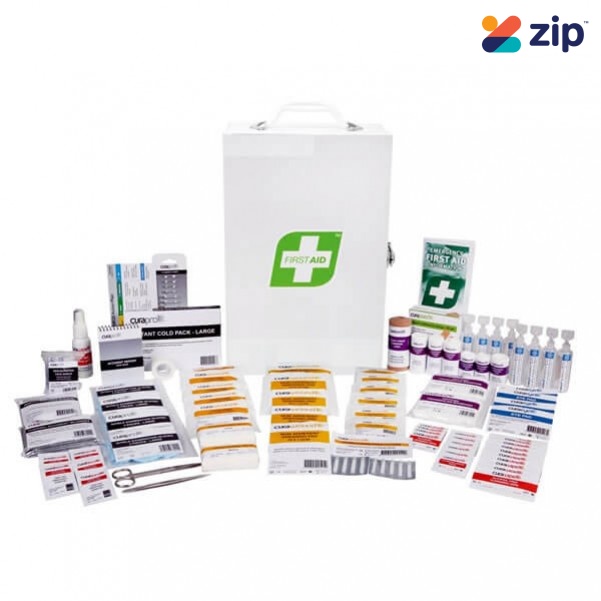 IMPACT-A FIRSTAIDKITR2MET - 435PC R2 1-25 Persons Workplace High Risk Metal Cabinet First Aid Kit 10030526
Features:
Complies with Current WHS Regulations for Workplaces.
Premium workplace Kit that contains contents specific to WHS requirements for Australian workplaces. Covers High Risk Workplaces.
Ideal First Aid Kit for high risk workplaces such as construction, trades, site work and industrial
Packed with a comprehensive range of premium hospital grade contents and two additional stock modules for effective treatment of general outdoor & eye injuries.
Kit includes:
1x FRD020 ADHESIVE STRIPS, FABRIC, 72 X 19MM, PK50
1x FRD005 ADHESIVE STRIPS, PLASTIC, 72 X 19MM, PK50
4x FRC442 ANTISEPTIC ALCOHOL WIPE/SWAB, STERILE
1x FRS023 ANTISEPTIC LIQUID, 50ML SPRAY
10x FRC450 ANTISEPTIC WIPE/SWAB, STEROWIPE, NON-STING, ALCOHOL FREE, STERILE
5x FRH003 HYDROGEL BURN GEL SACHET, 3.5G
1x FRH502 COLD PACK, INSTANT, LARGE BOXED
1x FRD237 COMBINE DRESSING, 10 X 20CM, STERILE
3x FRB205 CONFORMING BANDAGE, 5CM, WHITE
3x FRB207 CONFORMING BANDAGE, 7.5CM, WHITE
1x FRB410 CREPE BANDAGE, HEAVY, 10CM, BROWN
4x FRD107 EYE PADS, STERILE, PK1
8x FRS101 EYEWASH AMPOULE, 30ML
1x FAME30 FIRST AID MODULE, EYE & WOUND DRESSING, SOFT PACK
1x FAMO30 FIRST AID MODULE, OUTDOOR, SOFT PACK
1x FRI140 FORCEPS, SPLINTER, STAINLESS STEEL, 12.5CM
5x FRC402 GAUZE SWAB 7.5 X 7.5CM PK 5
5x FRG002 GLOVES, DISPOSABLE, LARGE (2/PACK)
1x FRA005 LARGE PLASTIC BAG, RESEALABLE, 230 X 305MM
1x fll500 CPR FLOWCHART. WALLET SIZE
1x FLB001 EMERGENCY FIRST AID INFORMATION BOOKLET. FOLD OUT DL SIZE
1x FRA004 MEDIUM PLASTIC BAG, RESEALABLE, 150 X 230MM
1x FRD307 NON ADHERENT DRESSING, 10X10CM
3x FRD306 NON-ADHERENT DRESSING, 10CM X 7.5CM STERILE
6x FRD302 NON ADHERENT DRESSING, 5X5CM
1x FRA901 NOTEBOOK WITH PENCIL
1x FRT002 PAPER TAPE, 2.5CM X 9M, HYPO-ALLERGENIC WHITE
6x FRC460 POVI IODINE SWABS
1x FRA111 RESCUE / THERMAL BLANKET SILVER SPACE
1x RCF035 CPR FACE SHIELD, DISPOSABLE WITH NON-RETURN VALVE
1x FRI012 SAFETY PINS CARD OF 12 ASSORTED
1x FRI100 SCISSORS, STAINLESS STEEL, 12.5CM, SHARP/BLUNT
1x FRA003 SMALL PLASTIC BAG, RESEALABLE, 100 X 125MM
10x FRI036 SPLINTER PROBE, 4CM, DISPOSABLE
2x FRB630 TRIANGULAR BANDAGE, COTTON, LARGE, 110CM
1x FRT145 WOUND CLOSURE STRIPS, 6X75MM,
1x FRD514 WOUND DRESSING, #14 STERILE
1x FRD515 WOUND DRESSING, #15 STERILE
1x FRD513 WOUND DRESSING, #13 STERILE
If you have any queries about Freight, please Call: 07 3326 1555 or Email: web@cltoolcentre.com.au
**We are able to dispatch goods Australia wide**
** Cut Off Time For Overnight Orders is 11:30 am Subject To Stock Availability **
** International orders are accepted at our discretion, Please contact our sales team for terms conditions & charges related to overseas orders**
​Free Shipping - For Orders Over $99 (Conditions applied)
C&L Tool Centre now offers free delivery for orders over $99 on a single transaction depending on shipping weight and Destination Zone. Please see table below for details.
The Total weight of the order must be below 20KG and the dimensions of the package have a maximum length of 1m and package volume of 0.25m³.
Items that exceed the above weights and dimensions or not meet requirements in Table1 may incur a freight charge and we will contact you prior to the dispatch to advise and confirm any freight charges.
This offer is valid for a limited time and C&L Tool Centre reserves the right to remove the offer without notice.
Table1:
Over $99 Free Shipping - Terms and Conditions

Destination Zone
Cart Total Requirement For Different Shipping Weight and Zone
Postcode
Zone
Name

0-3KG

3.01-6KG

6.01-10KG

10.01-20KG

Q0
Brisbane Metro

>=$99

4000-4018, 4029-4068, 4072-4123, 4127-4129, 4131-4132, 4151-4164, 4169-4182, 4205-4206, 9000-9725
Q1
Brisbane
4019-4028, 4069-4071, 4124-4126, 4130, 4133-4150, 4165-4168, 4183-4204, 4207-4209, 4270-4299, 4500-4549
GC
Gold Coast
4210-4224, 4226-4269, 9726-9919
IP
Ipswich
4300-4308
SC
Sunshine Coast
4550-4579
N0
Sydney Metro

>=$99

>=$199

1000-1935, 2000-2079, 2085-2107, 2109-2156, 2158, 2160-2172, 2174-2229, 2232-2249, 2557-2559, 2564-2567, 2740-2744, 2747-
2751, 2759-2764, 2766-2774, 2776-2777, 2890-2897
N1
Sydney
2080-2084, 2108, 2157, 2159, 2173, 2230-2231, 2508-2514, 2555-2556, 2560-2563, 2568-2574, 2745-2746, 2752-2758, 2765, 2775,
2778-2786
N4
Tweed Heads
2485-2486
V0
Melbourne Metro
3000-3062, 3064-3098, 3101-3138, 3140-3210, 3800-3801, 8000-8999, 9999
V1
Melbourne
3063, 3099-3100, 3139, 3335-3341, 3427-3443, 3750-3799, 3802-3811, 3910-3920, 3926-3944, 3975-3978, 3980-3983
Q5
Coolangatta
4225
Q2
QLD Country Near
4309-4453, 4580-4693
Q3
QLD Country Mid

>=$99

>=$199

>=$299

>=$399

4454-4499, 4694-4802, 4804-4805, 9920-9960
GF
Gosford
2250-2263
WG
Wollongong
2500-2507, 2515-2532
NC
Newcastle
2282-2310
CB
Canberra
200-299, 2600-2620, 2900-2920
S0
Adelaide Metro
5000-5113, 5115-5117, 5125-5130, 5158-5169, 5800-5999
S1
Adelaide
5114, 5118-5124, 5131-5157, 5170-5200
N3
Albury
1936-1999, 2640-2641, 2708-2709
N2
NSW Country
2264-2281, 2311-2484, 2487-2499, 2533-2554, 2575-2599, 2621-2639, 2642-2647, 2649-2707, 2710-2714, 2716, 2720-2730, 2787-
2879
V3
Wodonga
3689-3690
Q4
QLD Country North
4803, 4806-4999, 9961-9998
GL
Geelong
3211-3220
W0
Perth Metro
6000-6030, 6036, 6050-6066, 6069, 6076, 6090-6110, 6112-6120, 6147-6160, 6162-6175, 6180, 6182-6206, 6210, 6800-6990, 6992-
6996
W1
Perth
6031-6035, 6037-6049, 6067-6068, 6070-6075, 6077-6089, 6111, 6121-6146, 6161, 6176-6179, 6181, 6207-6209, 6211-6214, 6991,
6997-6999
T0
Tasmania Select

>=$199

>=$299

>=$399

>=$699

7000-7019, 7050-7053, 7055-7108, 7172, 7248-7254, 7258-7329, 7800-7999
T1
Tasmania
7020-7049, 7054, 7109-7150, 7155-7171, 7173-7247, 7255-7257, 7330-7799
BR
Ballarat
3350, 3353-3356
V2
VIC Country
2648, 2715, 2717-2719, 2731-2739, 3221-3334, 3342-3349, 3351-3352, 3357-3426, 3444-3688, 3691-3749, 3812-3909, 3921-3925,
3945-3974, 3979, 3984-3999
AAT
Aust Antarctic Territory*
7151-7154
S2
SA Country
2880-2889, 5201-5749
NT1
NT Near
0800-0802, 0804-0821, 0828-0851, 0853-0853, 0860-0861, 0870-0871, 0873-0879, 0906-0999
NT2
NT Remote
0803-0803, 0822-0827, 0852-0852, 0854-0859, 0862-0869, 0872-0872, 0880-0905
NF
Norfolk Is*
2898-2899
W4
Christmas & Cocos Is*
6798-6799
W2
WA Country South
6215-6700
W3
WA Country North
6701-6797
IMPACT-A FIRSTAIDKITR2MET - 435PC R2 High Risk Metal Cabinet First Aid Kit 10030526