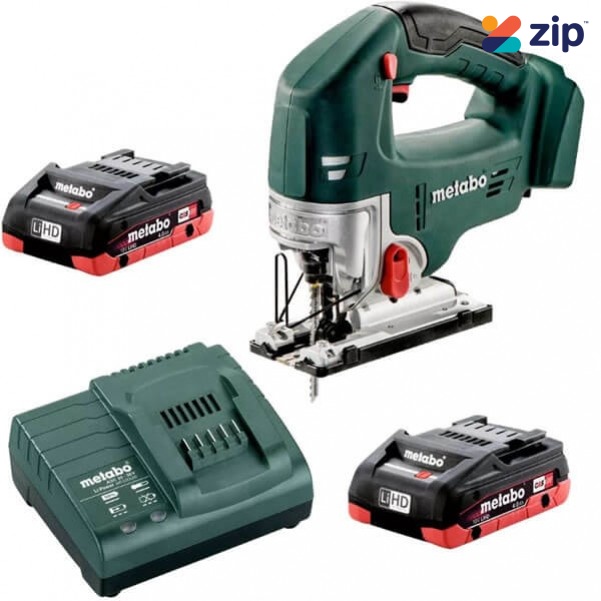 Metabo STA 18 LTX 4.0 K - 18V Jigsaw - D Handle 135mm 2700rpm 4.0Ah LiHD Kit (AU60229840)
Kit Includes:
Metabo STA 18 LTX 18V Jigsaw Kit
2 x Metabo 4.0Ah 18V LiHD Battery Pack
Metabo ASC 30-36V 36V Superfast Charger
Carry case
Metabo STA 18 LTX 18V Jigsaw Kit
Features:
High sawing performance: in excess of 30 metres in chipboard (19 mm) with only one battery pack charge
Metabo Quick for changing saw blades without tools
Low-lying saw blade guidance for precise cuts
Top handle with non-slip soft-grip surface
Selectable shaving blower function ensures free view of cutting line
Integrated LED work light for illumination of the cutting line
Vario (V)-Electronics for working with customised stroke rates for the materials used
Long service life thanks to optimum gear and motor design and robust die-cast aluminium gear housing
Splinter-free and gentle sawing due to guard plate and chip break guard
Battery packs with capacity display for checking the charge status
Ultra-M technology for highest performance, gentle efficient charging, optimum energy utilisation and long service life
Specifications:
Voltage: 18 V
Cutting depth wood: 135 mm / 5 5/16"
Cutting depth NF metal: 35 mm / 1 3/8"
Cutting depth sheet steel: 10 mm / 3/8"
Swivel range from / to: - 45 / + 45°
Pendulum stroke levels: 4
Strokes in idle: 0 - 2700 rpm
Weight (including battery pack): 2.8 kg
Vibration - Sawing wood: 7 m/s²
Uncertainty of measurement K: 1.5 m/s²
Vibration - Sawing metal: 7 m/s²
Sound pressure level: 86 dB(A)
Sound power level (LwA): 97 dB(A)
Uncertainty of measurement K: 3 dB(A)
Metabo 4.0Ah 18V LiHD Battery Pack
Features:
LiHD battery packs for ultimate performance and extremely long application with minimal temperature generation
Ultra M technology: Intelligent battery management for long-lasting battery packs with a 3 year guarantee
Patented "AIR COOLED" charging technology
Permanent Electronic Single Cell Protection (ESCP) when charging, for particularly long life.
Processor-controlled charge and discharge management
Capacity display with almost no self-discharge
One battery pack for everything. 100% compatibility with all 18 V machines and chargers of the CAS partners: www.cordless-alliance-system.com
Specifications:
Voltage: 18V
Capacity: 4 Ah
Weight: 0.6 kg
Metabo ASC 30-36V 36V Superfast Charger
Features:
Monitored charging with microcontroller
Battery diagnosis
Charge time approximately 30 minutes at 1.5 Ah
"AIR COOLED" function
For charging all Li-Power Compact, Li-Power Plus, Li-Power Extreme battery packs
Monitored charging with microcontroller: the battery pack is charged with 2.5 ampere with constant monitoring of voltage flow, temperature flow and maximum temperature. The charger ends the charging process immediately after full charging. Thus, there is no overcharging and the life of the battery pack increases.
Charger switches to compensation charge: to conserve the capacity, the battery pack is charged for 1 second every 45 seconds with 2.5 ampere.
"AIR COOLED" function: the patented principle is based on air-cooling the battery pack during the charging process. The battery packs are gently cooled down to the required charging temperature, and then during the charging process are constantly maintained at optimum temperature. With this principle, a higher tool life of the battery packs and up to 30% shorter total charging time can be achieved.
Specifications:
If you have any queries about Freight, please Call: 07 3326 1555 or Email: web@cltoolcentre.com.au
**We are able to dispatch goods Australia wide**
** Cut Off Time For Overnight Orders is 11:30 am Subject To Stock Availability **
** International orders are accepted at our discretion, Please contact our sales team for terms conditions & charges related to overseas orders**
​Free Shipping - For Orders Over $99 (Conditions applied)
C&L Tool Centre now offers free delivery for orders over $99 on a single transaction depending on shipping weight and Destination Zone. Please see the table below for details.
The total weight of the order must be below 20KG and the dimensions of the package have a maximum length of 1m and package volume of 0.25m³.
Items that exceed the above weights and dimensions or not meet requirements in Table1 may incur a freight charge and we will contact you prior to the dispatch to advise and confirm any freight charges.
This offer is valid for a limited time and C&L Tool Centre reserves the right to remove the offer without notice.
Table1:
Over $99 Free Shipping - Terms and Conditions

Destination Zone
Cart Total Requirement For Different Shipping Weight and Zone
Postcode
Zone
Name

0-3KG

3.01-6KG

6.01-10KG

10.01-20KG

Q0
Brisbane Metro

>=$99

4000-4018, 4029-4068, 4072-4123, 4127-4129, 4131-4132, 4151-4164, 4169-4182, 4205-4206, 9000-9725
Q1
Brisbane
4019-4028, 4069-4071, 4124-4126, 4130, 4133-4150, 4165-4168, 4183-4204, 4207-4209, 4270-4299, 4500-4549
GC
Gold Coast
4210-4224, 4226-4269, 9726-9919
IP
Ipswich
4300-4308
SC
Sunshine Coast
4550-4579
N0
Sydney Metro

>=$99

>=$199

1000-1935, 2000-2079, 2085-2107, 2109-2156, 2158, 2160-2172, 2174-2229, 2232-2249, 2557-2559, 2564-2567, 2740-2744, 2747-
2751, 2759-2764, 2766-2774, 2776-2777, 2890-2897
N1
Sydney
2080-2084, 2108, 2157, 2159, 2173, 2230-2231, 2508-2514, 2555-2556, 2560-2563, 2568-2574, 2745-2746, 2752-2758, 2765, 2775,
2778-2786
N4
Tweed Heads
2485-2486
V0
Melbourne Metro
3000-3062, 3064-3098, 3101-3138, 3140-3210, 3800-3801, 8000-8999, 9999
V1
Melbourne
3063, 3099-3100, 3139, 3335-3341, 3427-3443, 3750-3799, 3802-3811, 3910-3920, 3926-3944, 3975-3978, 3980-3983
Q5
Coolangatta
4225
Q2
QLD Country Near
4309-4453, 4580-4693
Q3
QLD Country Mid

>=$99

>=$199

>=$299

>=$399

4454-4499, 4694-4802, 4804-4805, 9920-9960
GF
Gosford
2250-2263
WG
Wollongong
2500-2507, 2515-2532
NC
Newcastle
2282-2310
CB
Canberra
200-299, 2600-2620, 2900-2920
S0
Adelaide Metro
5000-5113, 5115-5117, 5125-5130, 5158-5169, 5800-5999
S1
Adelaide
5114, 5118-5124, 5131-5157, 5170-5200
N3
Albury
1936-1999, 2640-2641, 2708-2709
N2
NSW Country
2264-2281, 2311-2484, 2487-2499, 2533-2554, 2575-2599, 2621-2639, 2642-2647, 2649-2707, 2710-2714, 2716, 2720-2730, 2787-
2879
V3
Wodonga
3689-3690
Q4
QLD Country North
4803, 4806-4999, 9961-9998
GL
Geelong
3211-3220
W0
Perth Metro
6000-6030, 6036, 6050-6066, 6069, 6076, 6090-6110, 6112-6120, 6147-6160, 6162-6175, 6180, 6182-6206, 6210, 6800-6990, 6992-
6996
W1
Perth
6031-6035, 6037-6049, 6067-6068, 6070-6075, 6077-6089, 6111, 6121-6146, 6161, 6176-6179, 6181, 6207-6209, 6211-6214, 6991,
6997-6999
T0
Tasmania Select

>=$199

>=$299

>=$399

>=$699

7000-7019, 7050-7053, 7055-7108, 7172, 7248-7254, 7258-7329, 7800-7999
T1
Tasmania
7020-7049, 7054, 7109-7150, 7155-7171, 7173-7247, 7255-7257, 7330-7799
BR
Ballarat
3350, 3353-3356
V2
VIC Country
2648, 2715, 2717-2719, 2731-2739, 3221-3334, 3342-3349, 3351-3352, 3357-3426, 3444-3688, 3691-3749, 3812-3909, 3921-3925,
3945-3974, 3979, 3984-3999
AAT
Aust Antarctic Territory*
7151-7154
S2
SA Country
2880-2889, 5201-5749
NT1
NT Near
0800-0802, 0804-0821, 0828-0851, 0853-0853, 0860-0861, 0870-0871, 0873-0879, 0906-0999
NT2
NT Remote
0803-0803, 0822-0827, 0852-0852, 0854-0859, 0862-0869, 0872-0872, 0880-0905
NF
Norfolk Is*
2898-2899
W4
Christmas & Cocos Is*
6798-6799
W2
WA Country South
6215-6700
W3
WA Country North
6701-6797
Metabo STA 18 LTX 4.0 K - 18V Jigsaw - D Handle 135mm 2700rpm 4.0Ah LiHD Kit (AU60229840)