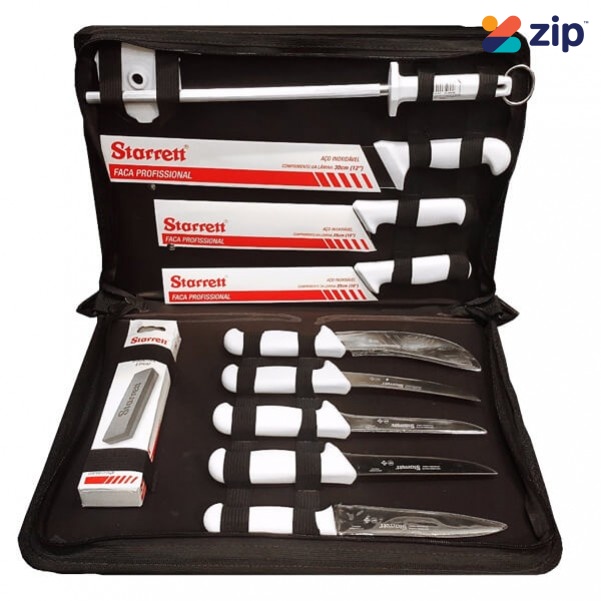 Starrett BKK-11W - Professional Butchers Knife 11 Piece Set
Starrett Butcher Knife Set 11 pc White (BKK-11W). Made from quality stainless steel, ensuring precise cuts, longer blade life, and the Starrett® quality you can trust.
Features:
With our new line of professional hand knives, Starrett brings to butchers, slaughterhouses, supermarkets and food processing industry professional, hand knives with selected steel alloy, resulting in accurate cuts, longer life, with quality that you already know.
Antimicrobial polypropylene comfort plus handles.
Stainless Steel Blades
Injection moulded ergonomic handles with Antimicrobial Sanitized protection
Textured for maximum grip, optimum comfort, and easy clean
Identifiable laser marked blades
NSF certification
Available in 1 colour (white) as MTO
Special steel alloy for longer blade life, stain and rust resistance
The guarantee of origin identification and traceability are further important advantages of the new Starrett® knives. With a tracking number laser stamped on the blades, Starrett® ensures knives can be identified from leaving the factory
Uniquely sharpened angle for more precise impactful cuts
Includes:
8 Knives from 15-30cm
Catch
Striated Sharpening Steel
Sharpening Stone
Storage Case
Specification:
1 Boning Knife Narrow Straight 6″ (150mm) White Handle (BKW104-6)
1 Boning Knife Narrow Curved 6″ (150mm) White Handle (BKW106-6)
1 Boning Knife Wide Straight 6″ (150mm) White Handle (BKW103-6)
1 Chefs Knife Narrow Triangular 6″ (150mm) White Handle (BKW302-6)
1 Chefs Knife Wide Triangular 10″ (250mm) White Handle (BKW301-10)
1 Skinning Knife Narrow Curved 6″ (150mm) White Handle (BKW206-6)
1 Steak Knife Wide Curved 10″ (250mm) White Handle (BKW205-10)
1 Butchers Knife Wide Straight 12″ (300mm) White Handle (BKW203-12)
1 Sharpening Steel Knurled finish 12″ (300mm) White Handle (BKW407-12)
1 Sharpening Steel Protector White (BKW5)
1 Sharpening Stone Double-sided: 120 and 320 grit 8″ (200mm) (KBKS1)
Disclaimer:
This product is restricted to persons over the age of 18, you may be asked for ID on collection
If you have any queries about Freight, please Call: 07 3326 1555 or Email: web@cltoolcentre.com.au
**We are able to dispatch goods Australia wide**
** Cut Off Time For Overnight Orders is 11:30 am Subject To Stock Availability **
** International orders are accepted at our discretion, Please contact our sales team for terms conditions & charges related to overseas orders**
​Free Shipping - For Orders Over $99 (Conditions applied)
* WA Emergency Service: With key road and rail transport arrangements into and out of Western Australia significantly disrupted or unavailable, Auspost starts to charge an additional emergency measure cost of 40% (ex GST) of the freight charges. We have to temporarily exclude WA from the promotion of "Free Shipping For Orders Over $99 (Conditions applied)".
C&L Tool Centre now offers free delivery for orders over $99 on a single transaction depending on shipping weight and Destination Zone. Please see the table below for details.
The total weight of the order must be below 20KG and the dimensions of the package have a maximum length of 1m and package volume of 0.25m³.
Items that exceed the above weights and dimensions or not meet requirements in Table1 may incur a freight charge and we will contact you prior to the dispatch to advise and confirm any freight charges.
This offer is valid for a limited time and C&L Tool Centre reserves the right to remove the offer without notice.
Table1:
Over $99 Free Shipping - Terms and Conditions

Destination Zone
Cart Total Requirement For Different Shipping Weight and Zone
Postcode
Zone
Name

0-3KG

3.01-6KG

6.01-10KG

10.01-20KG

Q0
Brisbane Metro

>=$99

4000-4018, 4029-4068, 4072-4123, 4127-4129, 4131-4132, 4151-4164, 4169-4182, 4205-4206, 9000-9725
Q1
Brisbane
4019-4028, 4069-4071, 4124-4126, 4130, 4133-4150, 4165-4168, 4183-4204, 4207-4209, 4270-4299, 4500-4549
GC
Gold Coast
4210-4224, 4226-4269, 9726-9919
IP
Ipswich
4300-4308
SC
Sunshine Coast
4550-4579
N0
Sydney Metro

>=$99

>=$199

1000-1935, 2000-2079, 2085-2107, 2109-2156, 2158, 2160-2172, 2174-2229, 2232-2249, 2557-2559, 2564-2567, 2740-2744, 2747-
2751, 2759-2764, 2766-2774, 2776-2777, 2890-2897
N1
Sydney
2080-2084, 2108, 2157, 2159, 2173, 2230-2231, 2508-2514, 2555-2556, 2560-2563, 2568-2574, 2745-2746, 2752-2758, 2765, 2775,
2778-2786
N4
Tweed Heads
2485-2486
V0
Melbourne Metro
3000-3062, 3064-3098, 3101-3138, 3140-3210, 3800-3801, 8000-8999, 9999
V1
Melbourne
3063, 3099-3100, 3139, 3335-3341, 3427-3443, 3750-3799, 3802-3811, 3910-3920, 3926-3944, 3975-3978, 3980-3983
Q5
Coolangatta
4225
Q2
QLD Country Near
4309-4453, 4580-4693
Q3
QLD Country Mid

>=$99

>=$199

>=$299

>=$399

4454-4499, 4694-4802, 4804-4805, 9920-9960
GF
Gosford
2250-2263
WG
Wollongong
2500-2507, 2515-2532
NC
Newcastle
2282-2310
CB
Canberra
200-299, 2600-2620, 2900-2920
S0
Adelaide Metro
5000-5113, 5115-5117, 5125-5130, 5158-5169, 5800-5999
S1
Adelaide
5114, 5118-5124, 5131-5157, 5170-5200
N3
Albury
1936-1999, 2640-2641, 2708-2709
N2
NSW Country
2264-2281, 2311-2484, 2487-2499, 2533-2554, 2575-2599, 2621-2639, 2642-2647, 2649-2707, 2710-2714, 2716, 2720-2730, 2787-
2879
V3
Wodonga
3689-3690
Q4
QLD Country North
4803, 4806-4999, 9961-9998
GL
Geelong
3211-3220
W0
Perth Metro
6000-6030, 6036, 6050-6066, 6069, 6076, 6090-6110, 6112-6120, 6147-6160, 6162-6175, 6180, 6182-6206, 6210, 6800-6990, 6992-
6996
W1
Perth
6031-6035, 6037-6049, 6067-6068, 6070-6075, 6077-6089, 6111, 6121-6146, 6161, 6176-6179, 6181, 6207-6209, 6211-6214, 6991,
6997-6999
T0
Tasmania Select

>=$199

>=$299

>=$399

>=$699

7000-7019, 7050-7053, 7055-7108, 7172, 7248-7254, 7258-7329, 7800-7999
T1
Tasmania
7020-7049, 7054, 7109-7150, 7155-7171, 7173-7247, 7255-7257, 7330-7799
BR
Ballarat
3350, 3353-3356
V2
VIC Country
2648, 2715, 2717-2719, 2731-2739, 3221-3334, 3342-3349, 3351-3352, 3357-3426, 3444-3688, 3691-3749, 3812-3909, 3921-3925,
3945-3974, 3979, 3984-3999
AAT
Aust Antarctic Territory*
7151-7154
S2
SA Country
2880-2889, 5201-5749
NT1
NT Near
0800-0802, 0804-0821, 0828-0851, 0853-0853, 0860-0861, 0870-0871, 0873-0879, 0906-0999
NT2
NT Remote
0803-0803, 0822-0827, 0852-0852, 0854-0859, 0862-0869, 0872-0872, 0880-0905
NF
Norfolk Is*
2898-2899
W4
Christmas & Cocos Is*
6798-6799
W2
WA Country South
6215-6700
W3
WA Country North
6701-6797
Starrett BKK-11W - Professional Butchers Knife 11 Piece Set